City of Ottawa fall program online registration starts Wednesday, August 23 at 9 pm
Plan your programs now. Register for a free LEGO® Mosaics and Art virtual workshop on Sunday, October 22. Join us throughout November for in-person and virtual workshops and classes including:
LEGO® Contraptions
LEGO® Club
LEGO® Building and SPIKE Robotics
LEGO® Junior Robotics and Coding
LEGO® SPIKE Robotics and Coding
LEGO® Minecraft Engineer - Virtual
Fall Programs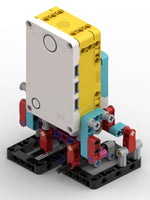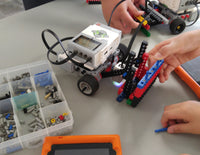 We love STEM.
At Orange STEM Education, our focus is Engineering, and the Science, Technology and Math needed to fuel it. Our distinctive hands-on projects, created by Ian Dudley, a Mechanical Engineering Technologist, teach Mechanics, Electronics and Robotics to all ages.
Our programs are designed to develop the problem-solving skills, and encourage the teamwork, necessary for engineering. As students build structures, machines and robots, they acquire math concepts, scientific understanding and technology skills.
Workshops
We're passionate about LEGO® education.
We're Ottawa's original full-time LEGO educators. Our programs employ the full range of LEGO systems including Duplo®, Creator, Technic, Power Functions, Powered UP, Mindstorms® EV3, NXT, SPIKE Prime, and more. We are constantly updating our technical knowledge, our LEGO components and our technology, so that our students can build, explore and invent.
With Orange STEM, students can build a large structure, design a vehicle, build a robot, learn to code, build contraptions, create a Minecraft village, build a circuit, design a mosaic, and program an advanced robot. 
Join us for in-person and virtual classroom programs suitable for public, private and home schools.
School Programs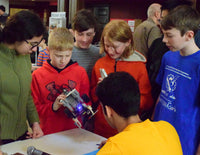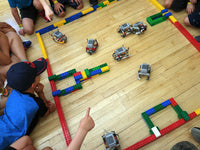 We deliver fun and challenging workshops, classes, camps and parties.
Our LEGO programs for 5 to 14 year-olds are unique to Orange STEM and are always evolving. Our hands-on projects and challenges are always well-received, and our enthusiasm for engineering and for teaching is always evident.
We are fully mobile, and our setup is nearly instant. Find Orange STEM in recreation centres, public and private schools, museums and faith communities, or invite us to your organization. We'll bring an unparallelled array of LEGO elements and technology to your door, and you'll enjoy the learning fun. LEGO Parties are back. Ask us for more information.
Parties
Why 'Orange'?
Orange says 'enthusiasm' and 'creativity'. It's our favourite LEGO colour because we know that engineering relies as much on perseverance and creativity as it does on technical know-how. Our instructors' orange T-shirts have reflected that enthusiasm and creativity for over 20 years. 
Follow Ian on Twitter @LEGOGuyCA for all the exciting news about what he's working on and where he is teaching. Join our email list below to receive occasional updates.
About Orange STEM